What is WDW Tiki Room?
WDW Tiki Room is a weekly show dedicated to all things Disney! Join hosts, Kristen, Aljon and Natalie every Friday morning, as they take your song requests, Walt Disney World and Disneyland news, Disney pop-culture, guest interviews, trip reports, food reviews, travel news and much much more! Don't miss their weekly special segments such as "Bonus Levels" with Eric Allen.
Show Times:
Friday = live at 8:00 AM (est)
Sunday = encore at 5:00 PM (est)
WDW Tiki Room Show Guests:
Jeffrey Epstein - The Disney Geek of Disney's D23
Ashley Eckstein - Actress, voice of Ashoka Tano on "Star Wars: Clone Wars", Muffy on "That's So Raven" and former Disney Cast Member
Brent Iwan - Actor, voice of Mickey Mouse
Stephen Stanton - Actor, voice of several characters including "Star Wars: The Clone Wars" & Disney Parks
Bill Farmer - Actor, voice of Goofy and others
Bruce Boxleitner - Actor, "TRON" and "TRON: Legacy"
Billy Dee Williams - Actor, Star Wars trilogy
Constance Marie - Actress, "Switched at Birth" and "George Lopez"
Joey Lawrence - Actor, "Melissa and Joey"
Sara Rue - Actress, "My Future Boyfriend" and "Less than Perfect"
Barry Watson - Actor, "My Future Boyfriend" and "7th Heaven"
Maeghan Martin - Actress, "Mean Girls 2" and "Camp Rock"
Raven-Symone - Actress, "State of Georgia" and "That's So Raven"
Ian Harding - Actor, "Pretty Little Liars"
Troian Bellisario - Actress, "Pretty Little Liars"
Benjamin Stone - Actor, "The Nine Lives of Chloe King"
Alastair Fothergill - Director, DisneyNature: Earth, African Cats and Chimpanzee
Dick Van Dyke - Actor, Bert in "Mary Poppins"
Lonnie Burr - Member of the Original Mickey Mouse Club
Heather Henson - Daughter of Muppet creator Jim Henson
Kathy Rogers - Executive Director of Pirates of the Caribbean attraction
Lou Mongello - Author of "The Walt Disney World Trivia Book"
Dave and Jennifer Marx - Authors of "PassPorter" books
Ty Dietzler - Guitarist, Thousand Foot Krutch
Brian Rood - Artist, painter of Disney, Star Wars and more
Kyle and Craig DeFrancesco - Podcasters, The Lost Boys List
Jackie - Blogger, Delightfully Disney
Beth Doda - Blogger, Pursuing the Magic and Magical Blogorail creator
Lee Beatens - Blogger, DisLeelandia
Tony Caselnova - Blogger, Disney By the Numbers
Gary Chambers - Podcaster, The Mouse Lounge
Liana Kilgore - Podcaster, The Mouse Lounge
Erin Foster - Disney Mom's Panelist
Nancy Temple Rodrigues and David W. Smith - Authors of "Hidden Mickey" novels
Lisa Battista - Author of "WDW Attractions"
J.B. Conway - Author of "Mouse of Zen"
Brent Dodge - Author of "From Screen to Theme"
Shannon Sullivan - Creator of MeltdownFreeDisney.com
Alan Hooper - Creator of MouseVent.com
Amy Leslie - Former ice skater, Disney On Ice
Bob Rice - Creator of MiniCot
Sorcerer - Creator of Sorcerer Radio and the Sorcerer Community
Jeff Davis - Sorcerer Radio's News Director and host of DW:60
Kathy Peacock - Travel specialist from Magical Journeys Travel
Scott - From DVC-Rental
Beth Doda - Blogger and creator of Magical Blogorail Loop
Sean & Jami Smith - Sean Smith, former bass player for Billy Ray Cyrus and wife, Jami
Imagine & Pluto - Character Breakfast Podcasters
Kristen & Aljon - Hosts of WDW Tiki Room
Kristen  - Co-host of WDW Tiki Room
Kristen has made a home in Nashville, TN also known as Music City, USA so it's no surprise that she has an affection for music. Her passion for Walt Disney World and music is what lured her to the Sorcerer Community. In February of 2008, she launch the first in a series of how-to cooking videos, "Cooking with Mickey" to teach others how to make their favorite Disney recipes. As well as being a moderator on the forums she is also the co-host of the WDW Tiki Room; sharing her love of Disney, music and food.
Besides being involved in the Sorcerer Community Kristen is a travel agent for Magical Journeys, an Authorized Disney Vacation Planner, planning vacations for others to Disney, Universal and even cruises. A natural fit since Kristen has been to the Disney Parks more than 20 times and has taken multiple cruises. Kristen has created her own website, CookingwithMickeyblog.com; about Disney food, dining, recipes, reviews, news, and more. On top of all that, she somehow finds time to contribute to other Disney sites, get into the kitchen to experiment with cooking new foods, fiddle with her DLSR camera and catch the Nashville Predator hockey games.
Disney Favorites: Trying new restaurants, Epcot Food and Wine Festival, strolling through the World Showcase, Disney PhotoPass, Mickeys Not So Scary Halloween Party, and character meet-n-greets
Park: Epcot
Ride: Pirates of the Caribbean, Haunted Mansion & Rock N Roller Coaster
Restaurant: Victoria & Albert's, Napa Rose, Raglan Road, Jiko - The Cooking Place and Hollywood Brown Derby
Area of Park: World Showcase
Music Area of a Park: World Showcase
Song: Today, He's A Pirate. Ask me tomorrow and it will be something different.
Aljon - Co-host of WDW Tiki Room
Growing up Aljon was a fan of music and arts, traits passed along by his parents. He entertained at school drawing his favorite Marvel and Disney characters and performing with bands. Later he passed on his love of the arts by becoming a music teacher and mentor.
Fascinated by radio he began his career in radio 15 years ago. From there he worked at Nashville's #1 rock station before hosting "Nashville Tapes", showcasing Nashville's best unsigned artists. By the early 2000's he found himself touring world-wide with his rock band and DJing full-time for sister stations, one with Top 40 pop and the other with new rock and hosting the "Local Buzz" which he created as something bigger and better than the "Nashville Tapes". Being a musician he wanted the rest of the world to see that Nashville was more than the "Home of Country Music" and has dynamic rock music.
In 2005 Aljon, a guitarist accepted a job with his favorite brand of guitars. Now his full time job, Aljon travels around the USA including the home of Walt Disney World to teach others about the latest and greatest musical instruments. While traveling during the week for work he managed to still hold down weekends at the rock station. Recently he passed the torch onto another DJ to free up his weekends. Not even two months later he began to miss radio which lead him to become the co-host of the WDW Tiki Room, bringing his love of music and Disney to you.
Disney Favorites: Dole Whips, walking down Main St. U.S.A during Christmas and sampling food & drink from the World Showcase
Park: Epcot
Ride: Pirates of the Caribbean and Rock N Rollercoaster
Restaurant: Le Cellier
Area of Park: World Showcase
Music Area of a Park: Rock N Rollercoaster
Song: Grim Grinning Ghost
Natalie -Co-host of WDW Tiki Room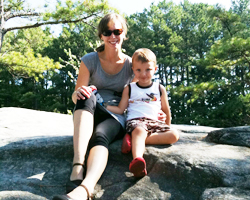 Natalie has lived in Nashville, TN since birth. Growing up in the Nashville area meant that her summers were filled with the local fun found at the Opryland, USA theme park. Childhood summers were spent with days in Opryland visiting attractions, experiencing shows and spending time with friends! When the park closed in 1997, Natalie quickly began regular visits to Walt Disney World and Disneyland. Since starting a family she frequently visits the Disney Parks with her son (currently age 5) and husband for her theme park fun!
Natalie's passion for Disney continues even when she is not in parks! She is the owner of MeetTheMagic.com, where articles chronicle her adventures in the Disney Parks and aboard the Disney Dream. The site includes contributions form other Disney enthusiasts, giving their different perspcetives on Disney vacationing. Using her education in finance, she brings weekly installments of "Strategies for Paying for Disney", where you can find ways to save money before and during your visits to Disney. In addition to Meet the Magic, Natalie regularly contributes to other Disney websites and a newsletter. Joining Castaway Midday just gives her another way to share her love and knowledge of Disney with others and have fun doing it.
Disney Favorites: Strolling the World Showcase 30 minutes before Illuminations: Reflictions of Earth as I meander and listen to the wonderful music as I sip a glass of wine
Park: Epcot
Ride: Pirates of the Caribbean, Haunted Mansion & Rock N Rollercoaster
Restaurant: Hoop De Doo Revue
Area of Park: World Showcase
Music Area of a Park: World Showcase
Song: Yo Ho! Yo Ho! A Pirates Life for Me!
Email Kristen, Natalie & Aljon your requests and questions